TOP FEATURES
16 PLACE SETTINGS
Wash everything up in one load
AUTO DRY TECHNOLOGY
Unload with speed, ease and no extra drying
WASH UP TO 16 PLACE SETTINGS AT ONCE
16 Place Settings
Wash everything up in one load. With three baskets, enough space to stack up to 16 place settings and a flexible interior that can be reconfigured in different ways, you can fit every item in saving you time and effort.
NO EXTRA DRYING REQUIRED
Auto Dry
No extra drying required
Unload with speed, ease and no extra drying. Automatically opening the door slightly at the end of every cycle lets excess steam escape, ensuring washed items dry completely.
FAST CLEANING IN 15 MINS, PERFECT FOR ENTERTAINING
15 Min Fast Cleaning
Imagine throwing a dinner party and the dishes from the main course are cleaned in the time it takes to serve dessert. This function conveniently does your dishes in as little as 15 minutes – perfect for when you're serving multiple courses.
SUPRISINGLY SILENT
Super Silent Operation
This Hisense dishwasher with a noise level close to a whisper is a real kitchen gem. It's so silent you won't even notice when it's working.
Always Know When the Washing is Finished
Status Light
Special led light is placed on the lower part of the dishwasher door, indicating whether the washing cycle is still in progress. If the led light is off the cycle is finished and you can start unloading the clean dishes.
Always Clean and Dry Cutlery
Third Basket
Third basket is located in the upper part of the tub and shaped like a special tray for cutlery and cooking utensils to ensure the best washing and drying result.
More Space for Bigger Pots
Movable Baskets
Three level basket adjustment system provides more space for even the biggest pots, making this dishwasher trully flexible and easy to use.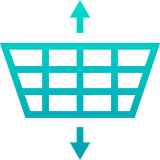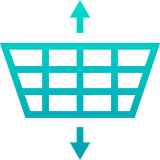 Easy Loading
Flexible Baskets
This well-considered design of flexible baskets enables easy loading and adapting the dishwasher capacity. The three level basket adjustment system as well as innovative solution of folding the plate supports in the lower basket provide space for even the biggest pots, while a special tray is dedicated to cutlery in order to provide the best washing and drying results.
Always Clean Tub for Better Washing Performance
Self-Clean Programme
Run the programme once a month and you'll never have to hand scrub the dishwasher tub, spray arms and pipes again. With its antibacterial effect, the washing will always be spot on with best cleaning results.
Specification
Now, here's the technical bit...
Number of Place Settings:

16

Dimensions (W*H*D):

596 × 817 × 571 (mm)

Control Type:

Touch Control

View More

All product descriptions, pricing and dimensions are approximate, product availability, specifications and features are subject to change at any time,and from time to time, and without notice.